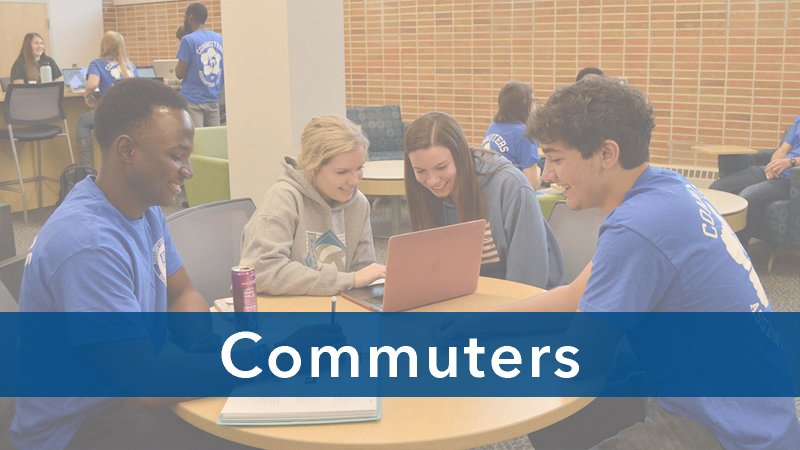 Whether you live on or off-campus, all students contribute to a vibrant campus community in which they are welcomed and made to feel at home.
Commuter Facilities
Regardless of where students live, they can still enjoy the full Assumption experience. We even provide to commuter students some amenities enjoyed by students in residence halls and more.
A commuter lounge is centrally located in Alumni Hall, adjacent to Taylor Dining Hall for all students to enjoy while on campus. The lounge, which is open from 7:30 a.m. to 8:30 p.m. 7 days a week features:
Full kitchen

Study spaces

Large screen televisions and couches to enjoy time with friends
Lockers are also available in the basement of Hagan Hall, right outside of the commuter lounge. Student Government Association (SGA) is happy to provide a lock.
Join the Commuter Club!
The Commuter Club meets in the commuter lounge every Thursday during the common hour starting at 11:30 a.m. Club meetings are a great way to meet other students and have your voice heard. Guest speakers from various organizations across campus are invited to present to the club, ensuring commuters are staying up to date on everything that is happening at Assumption. Join today by stopping by a meeting or by sending an email to
Hannah Garabedian '21.
Commuter Orientation
New to campus? The University offers a special program during COMPASS Orientation in June and August. In June, meet in the commuter lounge and talk with upper-class commuters about their Assumption experience. In August, you're back on campus to set your class schedule and ask questions, talk about concerns and meet other incoming commuter students.
Helpful Tips!
Join a student-run

club or organization

– there is something for everyone here!

Get involved in

intramural and club sports

– a great way to bring balance to your academics!

Attend the commuter club meetings in the commuter lounge every week.

Go to the

Plourde Recreation Center

– our state-of-the-art fitness center – in between classes.

Take full advantage of all of the benefits afforded to you as an Assumption student!
Questions?
If you are a commuter student and have questions about the many programs and services the University offers commuters, please contact
Sarah Swillo Muckian.